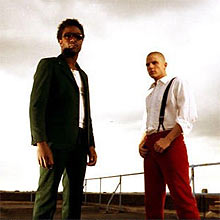 Okay, so things have been a bit quiet on the Popjustice Singles Club front, but it's back back back and if you haven't noticed already the latest 'release' is available now for download.
It's a song called 'Kid Comes Out To Play' by a duo called Neighbourhood.
It sounds — in the best possible sense — a bit like the work of a Gorillaz-influ­enced boyband, except Neighbourhood aren't a boyband and their influ­ences don't stop at the Albarn Allstars. Life is never simple, is it, listeners?
Get the full-length MP3, the sleeve, and more info on the band by clicking on www.popjustice.com/singlesclub.
Hurrah.