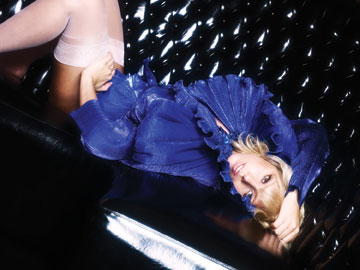 The Lady Ga Ga campaign continues to gather pace in America and the short film / promo EPK below is a great cel­eb­ra­tion of what sets her apart from the Hilary Duffs of this world. It's stu­pendously and sometimes self-con­sciously pre­ten­tious and of course the fact that it's passed through several levels of major label red tape at Interscope sort of takes the art school edge off things a bit but, y'know, we'd rather the big wheels of the global pop industry were churning out this sort of stylish and inter­est­ing pro­pa­ganda than yet another playsafe, crowd­pleas­ing Jonas Brothers effort.
httpv://www.youtube.com/watch?v=yWLFReFPQRs

Last we heard the track's out here at the start of next year but we suppose these things are subject to change.