This is Pink.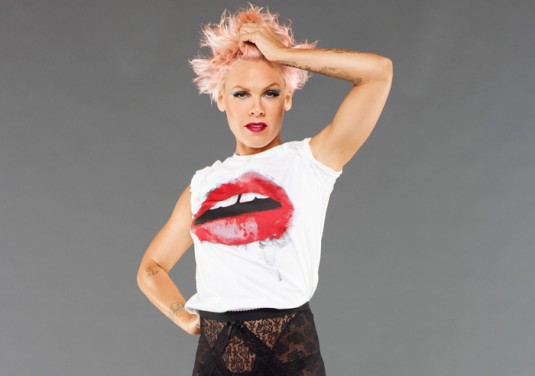 The turning point for P'!'nk the performer seems to have come during the 2010 Grammy awards when she did 'Glitter In The Air' while dressed in a swimming costume, wrapped in a bed sheet and suspended about twenty feet in the air. She even managed to not elec­tro­cute herself after being dunked in a paddling pool full of water.
While she'd been doing this sort of stuff (and more) on the 2009 Funhouse tour, it was this Grammy per­form­ance that seemed to give Pink the con­fid­ence to carry on exper­i­ment­ing with the various ways a popstar should deliver a song on a stage. By the time she performed 'Try' at the 2012 American Music Awards, she was throwing a topless male dancer around what looked like the set of Neighbours while covered in chalk. All of this while actually singing live, which of course isn't a necessity, but is still pretty impress­ive what with all the breathing and such like that goes into it all.
Anyway, all this means that her current The Truth About Love world tour is a proper spectacle, with more com­plic­ated and poten­tially painful set-ups than an episode of Total Wipeout.
To cut a long story short, I went along to see the 'Dear Mr President' hitmaker 'in action' at London's O2 last night and here are 7 things I learned.
PINK HAS SOME GOOD MERCHANDISE
Among the key rings, make-up bags and tight-fitting vests adorning the mer­chand­ise stall in the O2, my eye was of course drawn towards a fluro pink onesie hanging non­chal­antly in the corner.
There it is to your right.
I saw someone wearing a onesie in public the other day, which is clearly against the rules of general society, but there's nothing wrong with lounging about at home in a Truth About Love onesie, even if it does cost £80 (!).
THAT ALBUM COVER ISN'T GETTING ANY BETTER IS IT
Last year saw a bit of a trend for pictures of female popstars squatting, be it in the street like Carly Rae Jepsen, or just sort of hovering like Pink is on the cover of her latest album.
I was in a record company office the other week and was forced to sit below a giant picture of the cover, making it seem as if Pink was about to 'unload' on my head.
COMPERES AT 'GIGS' DON'T REALLY WORK TO BE HONEST
Ten minutes before Pink was due to 'take the stage' last night a man sporting a sparkly suit started clam­ber­ing over the seats around the arena and generally making a nuisance of himself. At one point he unbuttoned a man's shirt against his will, span a lady's ponytail without per­mis­sion and licked this poor man's head.
He later appeared on stage to introduce the 'theme' of the show, which seemed to be based around the pre­vi­ously untouched concept of love and how it's all a bit of a rollercoaster.
Whenever Pink was off getting into another leotard or strapping herself into a rocket, the man would do a 'hilarious' set piece, which usually seemed at odds with what was coming next (at one point he went on about spanking and biting and sniffing crotches before Pink emerged attached to a bungee chord for a very ser­i­ous­face run through of 'Try').
PINK DOESN'T REALLY GIVE A SHIT ABOUT HER OWN SAFETY
Right, I'm not normally a panicky person but there were moments during the 'gig' where I gasped and squirmed and generally thought that at any moment poor Pink was about to be flung across the stadium.
During 'Sober' she and about eight dancers clambered inside a giant revolving metallic ball thing, which was then suspended twenty feet in the air. Crash mats had been laid out under­neath in case one of them fell out because no one — NOT EVEN PINK — was actually strapped in.
Also, she didn't just sit in it calmly, she actually started walking about OUTSIDE the ball. She was basically running around the outside of climbing frame suspended in the air and rotating faster than a washing machine on a spin cycle. There was a definite sense that the crash mats were there for insurance reasons and not to actually save lives (chiefly because if she had slipped she would have ended up at the bar at the back of the O2).
THERE MIGHT BE ALL SORTS OF HIGHWIRE SHENANIGANS BUT PINK IS AN OLD-FASHIONED ENTERTAINER
Despite the dazzling set pieces, Pink is a fairly old-fashioned performer. There are no self-help mantras or gushing tributes to her own bril­liance. She forgets her lyrics and jokes about it, swears a bit (but then apo­lo­gises) and intro­duces her band and dancers like anyone really cares. Also, during a cover of 'Wicked Game' (!), the screens at the side of the stage showed everything in black and white to connote seriousness.
While there's a sort of concept thing hovering over pro­ceed­ings, it doesn't dominate — Pink just gets on with rattling through the hits, signing auto­graphs and wearing any of the things the fans at the front throw at her (including this fetching frog hat thing).
THE SINGLES FROM HER FIRST ALBUM ARE STILL REALLY GOOD
In an unex­pec­ted twist seeing as I assumed she didn't really bother with them anymore, Pink performed an amazing medley of the singles from her first album, 'Can't Take Me Home'. Not in a 'oh remember when I did R&B before I dis­covered angst LOL' sort of way, but in a proper dance routines and everything way. 'Most Girls' espe­cially is still a really amazing song.
PINK CAN FLY
Right, I was about to leave the O2 to get the tube back before the rush (as one does) but thought I might pop back in to see what was happening during 'So What'. Well, and let's not beat around the bush here, Pink was literally fucking flying all over the place. It was one of the most amazing/terrifying things I have ever seen and I've seen Pitbull live. As if being flung around a massive fucking arena weren't enough she also had time to land on a fairly small podium thing in the far corner, spin upside down and do a one-armed push up.

[youtube]GyhnA0VZmHY[/youtube]

You don't get that at a Frank Turner gig.