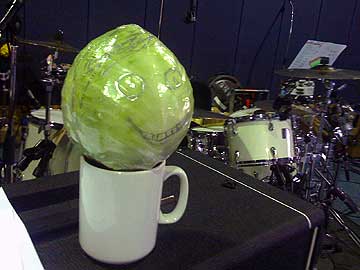 This is Mr Cabbagehead. Mr Cabbagehead was invented by a band, and is currently watching the band get to grips with their live show in a London rehearsal room. Can you guess which band?
Mr Cabbagehead likes to listen to music. He wishes he had a foot to tap, rather than a limbless body made out of a mug. But he knows that some cabbages don't have eyes or mouths, so he counts his blessings and moves on with life. Sometimes when he allows himself to think about his life, his past, his present and his future, he becomes upset because he knows he will never be able to exper­i­ence the things that humans exper­i­ence, even though he has been brought into a world where humans reign. Where, he wonders, are the others with cabbages for heads? Is he the only one?
Every night, when the lights go off in the rehearsal room and the band members go home to their friends and families, Mr Cabbagehead cries.