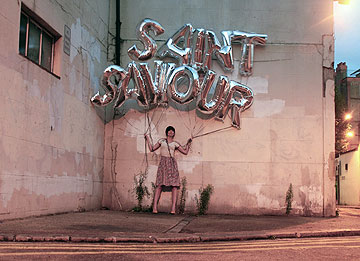 This, believe it or not, is a pho­to­graph of Saint Saviour. You might not want to be standing behind her when she's trying to get on a bus but, on the up side, she's got a single out this week (it's the best cover of 'Love Will Tear Us Apart' you'll hear all month) and the tracks on her MySpace are REALLY QUITE LOVELY in a drifty melodic Kate Bush Juniors sort of way.
Saint Saviour is not her real name. Her real name is Becky Jones, although that name would only about 79% as good written out in balloons. You can't help but wonder whether the world of pop would be a better place if every solo recording artist changed their name according to how good it would look written out in balloons.
More excit­ingly than all this Saint Saviour is a side project from Becky's proper job, which is being a member of The RGBs, a band you'll be hearing quite a lot about over the next few months (not least, we imagine, in the endless parade of 'Big For 2009' lists which'll be kicking off any day soon).
This is what The RGBs (produced by Groove Armada, fact fans) sometimes look like on stage.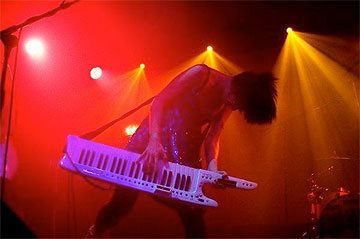 Hello.
What they sound like is covered in full on their MySpace.
Balloony picture credit: Tim Brown BDC Online