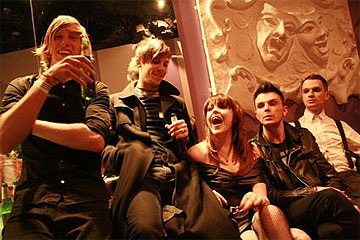 The five young people having a drink and a joke in this picture are Daggers. We decided last Thursday that they are our new favourite band on the face of the planet.
The band have been together for a while but 2008 is shaping up to be an exciting year. They've been recording songs with Richard Stannard (Kylie, 2wo Third3) over the last few weeks, are due to pay a visit to Richard X any day now, and have also lined up some producers who are sadly top secret but very highly regarded round these parts.
This is pretty much a 'watch this space' mention of the band as it's
early days and they haven't even signed a deal yet, but they're already hinting at a perfect synthesis of pop and electro with a few guitars thrown in for good measure, so keep your eye
out for some exciting devel­op­ments as the year unfolds…
FURTHER DAGGERS 'FACTS':
»
They are from Manchester.
»
Popjustice made a flying visit to sunny Brighton a few weeks ago to visit the band in the studio. They were working on a new song, which has since become this…
[audio:daggersdeath.mp3]
…which is today's Song Of The Day and is listen­able-to on the Daggers MySpace.
»
There are five of them but you could have deduced that from the photo. The five members are Theo (singing), Scott (syn­thes­iz­ing), Biz (syn­thes­iz­ing and singing), Jam (drumming) and Adam (guitaring). Any band where synthists and vocalists outnumber gui­tar­ists is alright by us.
» Daggers list Nine Inch Nails and Italo disco in their influ­ences, which might seem like an odd com­bin­a­tion but that's probably because you've never heard Ken Lazlo's original version of 'Head Like A Hole'.
»
They had a secret single (ie we didn't know anything about it) out last year. It was called 'Money'.
[audio:daggersmoney.mp3]
Literally amazing.
» Theo has strangely tidy hair.
»
They are fond of black and white photography.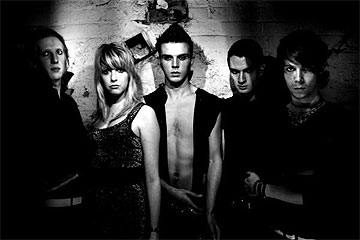 Ooh — moody.
»
That's your lot.