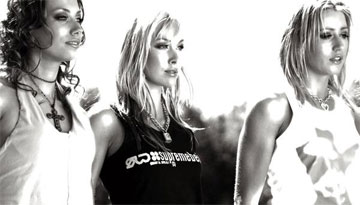 You might remember Sirens from a few years back when they had a brilliant track called 'Baby (Off The Wall)' and an album 'Control Freaks' with one or two (well, two) other good tracks.
They were signed to Kitchenware, an indie label famous for things that aren't girl­brands, and they tried to go the altern­at­ive route but despite some pretty sparky tunes the whole thing didn't work. It was very sad. :(
HERE IS THE NEWS

1. Having shown no interest in getting proper jobs they are still signed to Kitchenware and have been out and about recording new songs.

2. The band have lost a member but we doubt the Samaritans will be facing switch­board meltdown as a result of this not-exactly-seismic musical shift.

3. The trio now consists of Katherine, Karina and Lea.

4. Because Katherine, Karina and Lea think that things like 'writing our own songs' and 'not being idiots' are very important they are fond of wheeling out The Universal Signifier Of Things Like That Being Important: black and white photography.

5. They've also done a really quite brilliant cover of The Human League's 'The Things That Dreams Are Made Of'.
6. That's not the single, though — this is.
httpv://www.youtube.com/watch?v=LDUvAerNkxQ

(Note the black and white video.) Be warned: 'Club La La' (for that is the name of the single) seems boring and rubbish on first listen but is, in fact, rather brilliant. Basically it's like all Will.i.am records. Or to put it another way, it's a grower. ('A grower' is a phrase they used in the days before pop fans down­loaded tracks for free all day every day, decided they hated tracks before they'd heard them twice then deleted the files to make room for a hundred more MP3s they weren't going to listen to properly before deleting them.)
This isn't something we expect you'll see storming straight in at Number One and the single does have a whiff of 2003 about it but the band have got some other great tracks up their sleeves and should be up your street if you like singers capable of stringing a sentence together in inter­views, or if you're looking for an All Saints-type combo to accompany the imminent slew of girlbands based around the Spice Girls 'template'.
Sirens MySpace ahoy: www.myspace.com/sirens