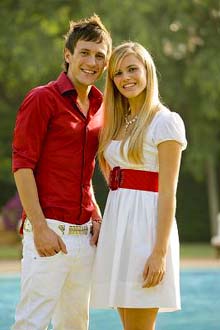 Let's have a little look.

1. Same Difference were amazing on the X‑Factor finals for more reasons than there were elves on stage with them during 'All I Want For Christmas Is You'. Despite Jason Donovan's best attempts to com­pletely fuck the night up for them, Shaun and Sarah's 'Breaking Free' per­form­ance was poten­tially the greatest moment in the history of televised pop contests. If you think Leona is famous now, imagine how much more famous she would be if she had FLOWN to the TOP of a CHRISTMAS TREE. About 1% more famous is the answer.

2. 'All I Want For Christmas Is You' is abso­lutely one of the greatest Christmas songs of all time and the fact that Mariah Carey is out­selling boring old Christmas songs by the likes of John Lennon and Andy Williams proves this nicely.

3. If we were tired of Calvin Harris yet – which we're not, by the way, even with the Christmas Countdown now entering its millionth week – then Primary 1 might make a good replace­ment even though he sounds nothing like Calvin. He sort of fills the same sized hole. And it is a big hole let us tell you that.

4. It's funny how, when something is suddenly given 'the single treatment', it all makes sense. A lot of the David Jordan album seemed to wash by a bit, but now that 'Sun Goes Down' is being released as a single, it suddenly sounds all kinds of amazing.

5. Frankmusik has put more new songs on his MySpace than every other band on the entire website put together. They are all good. He has recently done a cover version of one of Madonna's favourite records. There are things afoot and 2008 may well be a big year for Mr Musik…
So there you go.