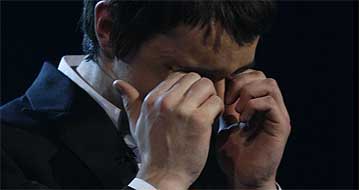 Well, it's getting on for two days since Leon Jackson (crazy name crazy guy etc) won X Factor and we're still stumped for something to say. All we could think of yesterday was a big story on the front page with 'SNEDDON ALERT! SNEDDON ALERT!' at the top. But that seemed a little premature.
If Leona has taught us anything it is that an X Factor winner with zero charisma in a chat scenerio can still triumph as a pop vocalist, but the invention of Leona as a multi-platinum artist comes after a year in which Simon Cowell and his behind the scenes elves have pulled out literally every stop to ensure that the project was a success. Clearly, that desire to make Leona a success came as a response to criticism that reality pop shows fail to throw up true stars far more than as a standard attempt to put together a decent album.
Will Leon inspire a similar level of passion and com­mit­ment from the managers, PRs, product managers and pluggers who have the ultimate say in whether he succeeds? He could be the Woolworths Michael Buble, but Michael Buble already is the Woolworths Michael Buble, and as anybody who witnessed the confusion and boredom in the audience during the 'big band' segment of the first Pop Idol tour will tell you, that route would musically alienate a large pro­por­tion Leon's potential fanbase. There's only so far being slightly more good looking than averagely good looking will get you with The Girls And The Gays, and an album of light jazz snooze anthems may not help things. Maybe he could be R&B and be the British Justin Timberlake, but that's what Shayne Ward's supposed to be doing. Er…
Maybe he will come out with a brilliant first proper single and his album will be great. Maybe once the nerves are gone he might allow some sign of a per­son­al­ity to shine through. Maybe when the pressure's off he'll be able to sing his debut single in tune. We hope so because the last thing anybody needs is another shit popstar.
A press release arrived today from Leon's PR. It suggested that this (and this is what was actually in the email) might be of interest.
"Leon Jackson feels extra pressure because he knows Ryhdian was favourite to win. 'I know I was a surprise win and I really feel the pressure now to prove myself and make a great album and for me it is all about the music.'"
:(