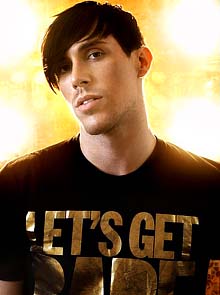 Let's have a little look.
1. Sam Sparro runs the risk of being very suc­cess­ful indeed. He also runs the risk of being a disaster but, y'know, nothing ventured, nothing gained. If the former is the case it will be largely due to his single 'Black And Gold' being com­pletely amazing but might also be down to the fact that his second single is an enormous balls-out pop mas­ter­piece which, hundreds of years from now, future gen­er­a­tions will be dancing to in their spacesuits.
2. Blah blah Annie blah comeback blah blah Xenomania blah blah blah Richard X blah not dicking around with being 'cool' this time blah blah blah potential best pop album of 2008 etc.
3. Girls Aloud have recorded a version of 'Can't Speak French' in French, a feat of post­pop­mod­ern­ism which could only be topped by an appear­ance from Arthur Bostrom in the video.
4. Despite dis­ap­point­ing fans by sacking off her tour, Sophie Ellis-Bextor has made it up to them with a quite listen­able song called 'Love Is The Law' which she is giving away for free. Very gen­tle­manly, for someone who isn't a gentleman. (Sophie is a lady.)
5. We heard the Alphabeat single on the radio last week. It sounds quite good on the radio. We would like to hear it on the radio again soon. Maybe we should stop listening to LBC.
THERE YOU GO.