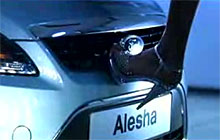 When we say 'Alesha Dixon's new single is very com­mer­cial' what we mean is that Alesha Dixon's new single sort of is a com­mer­cial, for the new Ford Focus car.
The video features Alesha singing a love song to a car. The car is called Alesha and we know this because its number plate says so. Obviously in this day and age there is nothing wrong with a same sex human/machine rela­tion­ship — after all, the intensity of just such a rela­tion­ship kept Knight Rider in business for most of the 80s — but the whole "I am in love with myself in car form" theme is a bit of an odd one.
Here's Alesha's video.
httpv://www.youtube.com/watch?v=KbQRJxxRGzk

This tie-in is, on one hand, a solution to the problem faced by a cha­ris­matic and talented recording artist who — in this instance — has a fairly high profile but from most labels' point of view has 'had her chance' to make it as a solo artist.
More import­antly, while it's not the first example of this sort of thing, it's also the kind of moment people are talking about when they bang on about 'new business models' for the music industry. It's a popstar singing a song to promote a car, but it's also a com­mer­cial for a car advert­ising a popstar singing a song.
Unusually, at a point when labels seem hell-bent on releasing music to the media so far upfront that everyone's sick of it — or has illegally down­loaded it — by the time it comes out, the track hasn't gone to radio or TV three months ahead of release. In fact news of the Alesha angle was embargoed until today. There's just been a big pro­mo­tional bang in the papers today, and the track will be available to buy online from Sunday. (You can pre-order it now by clicking here.) It's being released through Precious Stone records.

(Subs please chuck in waffle about 'synergy' here, cheers)
It will, as they say, 'be inter­est­ing to see how this one pans out'.
The song's quite good as well, btw.