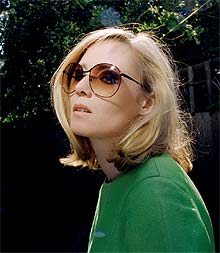 Hello.
If you are inter­ested in hearing the new Roisin Murphy single 'Overpowered' you can because it is today's Song Of The Day. We could tell you that it takes a couple of listens but a) you're not children and you know how pop works and b) it doesn't really take a few listens at all because it is Very Ace.
This (to your right) is one of her new pro­mo­tional pho­to­graphs, by the way.
Roisin seems to be in the garden but her expres­sion suggests that something is not quite right. It certainly looks like rain — perhaps she will have to rethink her plans for that bank holiday barbeque. Or maybe she is having trouble with her compost heap. She could even be wondering whether it was sensible to go for high-mainten­ence gravel when a lawn — while by no means an easy option in terms of upkeep — would non­ethe­less provide a more pleasing underfoot experience.
We may never know.
Maybe she is just looking over a neighbour's fence.