Here is the single sleeve for the next Robyn single, 'Handle Me'. It's very good in that it looks similar to the 'With Every Heartbeat' sleeve so it will make sense to everyone who is strug­gling to associate Robyn with being something other than a generic session singer drafted in to beef up something from Europe.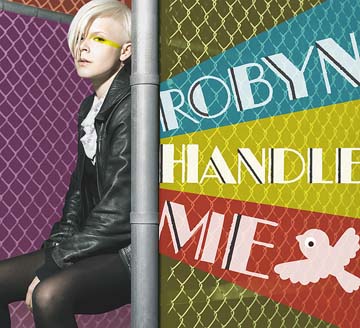 More import­antly the track has been remixed into various further states of amaz­ing­ness by a large number of people. Here is a clip of The Soul Seekerz' rather brilliant remix, which throws any concept of 'under­stated' to the wind. It also manages to dredge emotion from a track which is essen­tially about nothing more than how cool Robyn is. We'd hazard a guess that this might get played at Club Popjustice in the not-too-distant future. It is quite superb.
[audio:robynseekerz.mp3]
Here is the OrtzRoka Death To Disco Remix, which is not as unpleas­ant as the name implies and sounds the most similar to 'With Every Heartbeat' — although not, obviously. It is also amazing.
[audio:robynortzroka.mp3]
And lastly here is the utterly ridicu­lous Chewy Chocolate Cookies Psychofreakin Dub. It sounds very little like the original but is itself a stag­ger­ing piece of music which owes a lot to all the Daft Punk-influ­enced electro that has been around of late.
[audio:robynchewy.mp3]
We think you'll agree that all things con­sidered she has picked the right remixes for the right song. Well done Robyn.