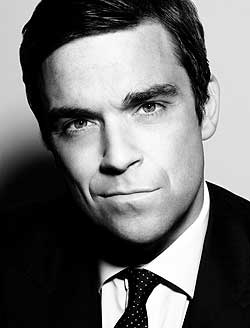 Basically yes. It's a confident, dignified comeback single with a big chorus.
A Robbie Song 'Bodies' Is Better Than: 'Let Me Entertain You'.
A Robbie Song 'Bodies' Is As Good As: 'Rock DJ'.
A Robbie Song 'Bodies' Is Not As Good As: 'Feel'.
For what follows to make proper sense you need to accept the fact (and it is fact) that 'Rudebox' was a brilliant album. NO WAIT COME BACK — it was five (maybe six) songs too long and it was accom­pan­ied by the wrong run of singles but it was Robbie's best album since 'I've Been Expecting You'. Tragically as we all know it was a bit of a shitshow reception-wise, meaning that Robbie was perceived to have gone down the dumper. This idea of Robbie having fallen on hard times was very con­veni­ent for The Evil Media due to the suc­cess­ful reappear­ance of Take That.
The two worst things Robbie could have done after 'Rudebox'
1. Record a rubbish 'rock' record as per The Demands Of The British Public Who Don't Really Know What They Want and/or another 'Swing When You're Winning' (aka One Of The Worst Albums Of The Last 15 Years).
2. Rejoin Take That (which would have been briefly amazing but mildly shameful imme­di­ately after­wards — a bit like an elaborate wank).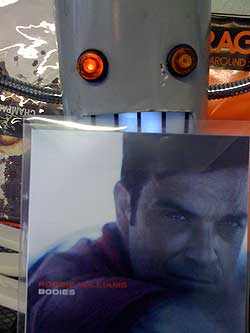 Fortunately Robbie has done neither of those things, both of which would have amounted to some sort of apology (when of course there was nothing to apologise for). What 'Bodies' rep­res­ents — and we say this in the context of the five other songs we've also heard from the new album, but it also makes sense con­sid­er­ing 'Bodies' in isolation — is someone refusing to retreat or apologise. Instead it sounds like someone con­fid­ently storming ahead. Ultimately there are hints of 'Rudebox', par­tic­u­larly in the verses, but the song's also strongly connected to some of Robbie's bigger, more tra­di­tional moments — 'Supreme', for example.
'Bodies' is not a comeback single that takes many chances — it is, career wise, Robbie's most important single since 'Angels' and there's obviously a certain amount of brand rebulding needed. But nor is it a comeback single that attempts to pretend the last three years haven't happened. It starts off with some spooksome Gregorian-style chanting over an 'Ain't
Nobody'-esque backing, continues through its first verse with a
lot of "I got laid on a leyline" lyrical business then totally explodes into a massive chant-along chorus of "all we've
ever wanted is to look good naked, hope that someone can take
it / God save me rejection from my reflec­tion, I want per­fec­tion". It's mid-tempo with flut­ter­ing strings and, in its closing moments, turns into a huge ad-libbing gospel choir romp.
'Bodies' sounds like Robbie and Trevor Horn bringing out the best in each other — in this case 'the best' equalling a big comeback single from Britain's best male popstar. It's also a grown up pop song which might dis­ap­point anybody hoping for Robbie to throw himself further in the direction of 'Rudebox', although from what we've heard from the album those hopes won't be totally dashed — one track is
a massive cosmic electro disco number that sounds like a 2010 reima­gin­ing of 'Left To My Own
Devices'.
Other data:
» There is a bit with handclaps or stamping feet or perhaps both (or neither). (It's at the 2'17" mark.)
» Robbie shouts "yeah!" twice.
» It's not the (rather good) backing track from that video on Robbie's website the other week. Perhaps that is an album track?
Robbie's debuting the song on Chris Moyles' Radio One breakfast show on Friday morning so you can all listen to it and go, like you always do, 'oh it's not as good as Popjustice said it was' (even though it will be precisely as good as we've said it is and you know it).