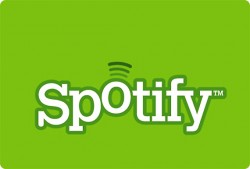 Popular streaming thing Spotify turned on some poten­tially amazing 'func­tion­al­ity' yesterday.
It means you can embed their music in little players.
You need to have Spotify but you should have Spotify anyway, right? Right.
Let's see if it works.
That seems to 'do the job'.
Let's try embedding a playlist — in this instance we'll go for the 'Fauxtown' playlist we knocked together (with the help of various Twitter con­trib­ut­ors) a couple of months ago. The idea is that it's modernish songs that went for the Motown sound. YES IT INCLUDES A1.
Well that works too.
Next up, let's see what happens when you embed a playlist but go for the 'light back­ground' option. For this, we'll use our Top 45 Singles Of 2010 list.
Amazing. The red strip at the bottom is a bit dis­tract­ing but at least you know there's more to come, we suppose.
And finally, there is a 'cover art' option that looks like this.
(That playlist is something we put together for a safe sex campaign someone was doing a couple of years ago.)
Our Findings
What we have 'found' during this exper­i­ment is that the Spotify play buttons CHANGE EVERYTHING. Unless there are songs that are blocked in certain countries in which case things will get a bit com­plic­ated. But yes, as a general idea, this is probably in the upper reaches of the amaz­ing­ness spectrum. It would be better if you didn't have to be a Spotify member to listen to stuff, of course, but what do you want? The moon on a stick?
(The moon on a stick would be pretty good, actually.)
If you want to create your own Spotify play buttons you can do that here.
And if you'd like to send Popjustice some music on Spotify, we are here.