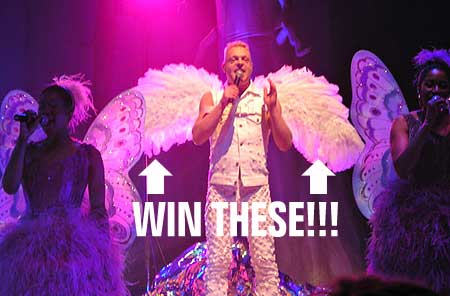 You'll be 'icarus' (cross) if you don't 'wing' (win) this com­pet­i­tion: we're giving away the actual angel wings in this pho­to­graph to one Popjustice viewer.
To win: email [email protected] and tell us your favourite bird, which popstar you would name that bird after if you had one as a pet, and how long you would expect that bird to live for taking into account a) average life expect­ancy and b) your own skills as a pet owner. Closing date is end of play Monday (March 2).
Warning: The wings (worn during the 'Erasure Show' tour) are bloody massive and in these difficult financial times neither we or Erasure's people are going to post them halfway up the country so if you win you'll have to pick them up from central London.
The reason Erasure have suddenly offered us a pair of wings is that they've got a series of ret­ro­spect­ive album release things in the shops this week.
» An updated version of 'Pop! The First 20 Hits' which is now called 'Total Pop! The First 40 Hits' and now also includes songs like 'Don't Say Your Love Is Killing Me' and 'Always'.
» 'Pop! Remixed', which is a load of remixes of Erasure songs. Some are good, some are not so good. The general standard is 'above average'.
» A 'deluxe box set' which also features a live CD and a DVD of classic BBC per­form­ances including Wogan (amazing).
Erasure's a bit of a funny one. It's easy to think of them as a band who — like many if not most — simply
stopped being any good imme­di­ately after the release of
their first greatest hits album. Then you look at the extra twenty tracks they've added to the original 'Pop!' com­pil­a­tion and they're actually pretty good. As it happens we were going to have a Depeche Mode day in the office a few weeks ago and got side­tracked when we were chatting about Vince Clarke and ended up having Erasure on the stereo for about an hour and a half. True story, readers. True story. Every day's an adventure here at Popjustice.
OFFICIAL TOP 3 ERASURE SONGS
1. 'A Little Respect'
2. 'Drama!'
3. 'Sometimes'
Like we say that's an official Top 3 so like it or lump it really.