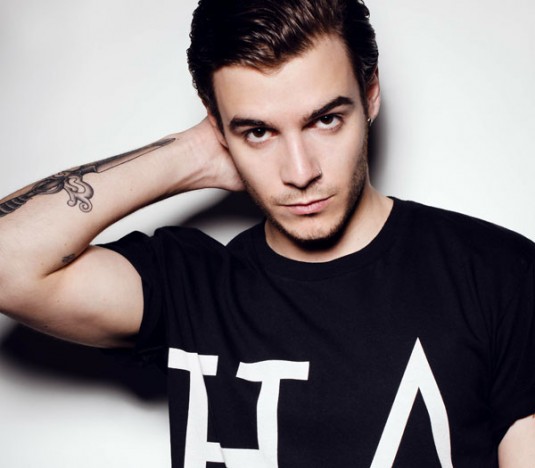 'Here at Popjustice' we're never afraid to throw around the phrase 'get on with it'. Jesus Christ, though, Fabio Lendrum might have some improb­ably good popstar hair but he's turned not-getting-on-with-it into an art form.
At the start of 2008, we featured his first track 'Rebel Rebel Go Go' as a Song Of The Day.
In August 2009 we featured a pho­to­graph of Fabio on a lawnmower, noting that his new material was great.
In 2011, we reminded you of his existence yet again when he was on the bill of a gig thing.
Well now in 2012 Fabio is still a very good popstar and things are actually properly def­in­itely happening.
Here is today's Big Song — 'Anything's Possible' — which is from Fabio's upcoming EP. He has gone a bit 'EDM' but he is still pop so don't panic.
Meanwhile fans of Little Boots' Tenorion or that Madeon thing with the flashing lights will probably like this video of Fabio per­form­ing 'Out The Water' on an 'Emulator DVS' (basically picture a bongo then picture the opposite):
http://www.youtube.com/watch?v=PXCh6_xg62M
Well you can't say fairer than that can you.
Welcome to actual pop music, Fabio Lendrum.
Further reading
» Pon de Twitter
» He's on Facebook you know
» Behold! His official website