There is a lot of rivalry between Capital FM and Radio 1 but after you take into account playlists, DJs and listening figures at the end of the day it always comes down to how a station copes when celebrit­ies visit.
This morning popular singing five-piece Girls Aloud ('Christmas Round At Ours', 'Walk This Way', 'See The Day') have already visited both stations in identical clothes. This gives us the unusual oppor­tun­ity to fairly compare the two stations' photoskillz.
1. Radio 1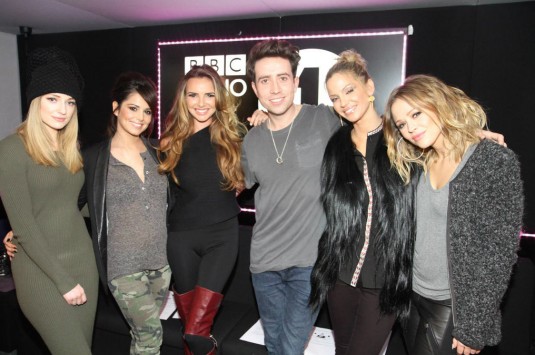 GOOD:
Breakfast Show host Nick 'Grimmy' Grimshaw is included in the pho­to­graph — useful for pro­tect­ing the snap against misuse by Mistajam, Mike Davies etc.
Logo has some of those fairy light strip things around it.
Everyone smiling except Nicola.
Good lighting. This pho­to­graph has probably been done with a proper camera and when we say 'proper camera' we mean something upwards of a Blackberry Bold.
BAD:
Sarah's full beauty and radiance has not been captured in this image.
Kimberley's head looks like it might fall off.
Due to Buttonmoonisation caused by black back­ground, Nicola looks like the top of her head has been sliced off and it appears that Nadine is being held up by Cheryl and Nick after having had both legs amputated below the knee.
2. Capital FM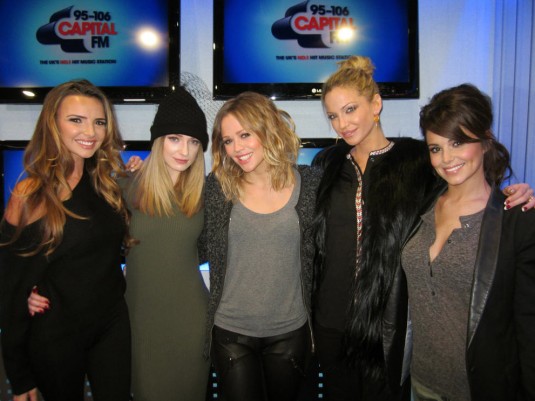 GOOD:
Sarah looks better.
Everyone smiling except Nicola.
Kimberley's in the middle — a novel twist.
Cheryl's boobs look bigger.
BAD:
We don't think this was taken on a proper camera.
You can't really see Cheryl's trousers — mind you, you couldn't really see them in the Radio 1 photo either due to them being camouflage.
The Capital FM TV screens look pretty good but there's a bit of reflec­tion going on that we're not happy with.
No DJ is present — they might just have hijacked the TV section in a branch of Currys.
You can't see Nadine's amazing boots.
VERDICT:
Radio 1 wins this round. Let's see what happens when Rihanna comes to town.
UPDATE UPDATE UPDATE
Since we published this article, two further images have appeared online. Here they are:
3. Kiss FM
GOOD:
Kiss have gone for the arty approach with this one — a good way of making their offering different from Radio 1 and Capital.
It was posted to Instagram with the caption "Something kinda shoe".
BAD:
There's something odd happening with Nadine's foot.
We're not big on blue carpet 'tbh'.
4. Capital FM — take two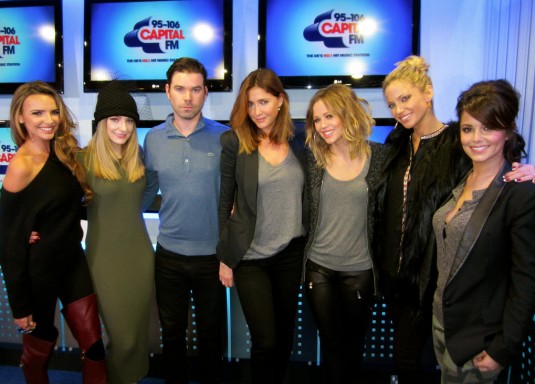 GOOD:
The reflec­tion in the monitors is less pro­nounced in this photograph.
Features Capital breakfast DJs, thus proving that this did in fact happen and that Girls Aloud didn't just fake it by going to Currys.
BAD:
Features Capital breakfast DJs, who sadly are terrible.
Nicola is smiling.
Dave Berry is not smiling, almost as if he has stolen Nicola's true expres­sion and replaced with one that is not hers. Here at Popjustice we do not look kindly on identity theft and conclude that Capital FM should be banned from this contest.
NEW VERDICT:
Radio 1's was a tech­nic­ally competent photo, but we admire Kiss' use of humour and style. Kiss FM are the winners.
UPDATE UPDATE UPDATE
UPDATE UPDATE UPDATE
Alright, another picture has now arrived.
5. In:Demand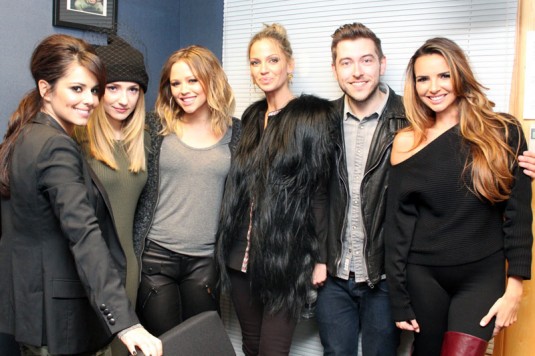 GOOD:
Nadine's boots are in shot.
Nicola is not smiling.
Sarah looks good.
Nobody seems to have had their head cut off, legs amputated etc etc.
The DJ chap Alex looks quite trust­worthy although he's not going to feel the benefit if he keeps his jacket on indoors (Girls Aloud obviously aren't staying long so we'll let them off).
Interesting 'side view' of Cheryl.
BAD:
We prefer a Venetian blind to be two thirds open and this one is com­pletely closed.
NEW VERDICT:
It's now a tie between Kiss FM and In:Demand.
UPDATE UPDATE UPDATE
UPDATE UPDATE UPDATE
UPDATE UPDATE UPDATE
Now this is getting ridicu­lous. No sooner had we updated the post to include In:Demand than THIS arrived upon the Twitter.

Well — attempt­ing to forget the fact that Foxy has promised us a glimpse of his penis — let's have a look, shall we?
6. Magic FM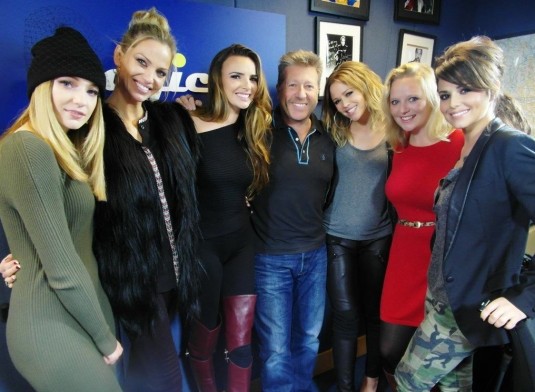 GOOD:
Cheryl's obviously enjoying the 'side view' thing, and here offers a slightly different twist.
Sarah looks good in this one as well.
Verity looks like she's having fun.
Neil Fox has — of course — done the meet and greet thing a million times, but he still looks pleased to be with Girls Aloud. Mind you, who wouldn't? Off the top of our heads the group achieved a string of twenty con­sec­ut­ive top ten singles, including four number ones: "Sound of the Underground", "I'll Stand by You", "Walk This Way" and "The Promise. They also achieved two number one albums in the United Kingdom: The Sound of Girls Aloud: The Greatest Hits which sold over million copies and Out of Control. All of their albums have been certified platinum. They have been nominated for five Brit Awards, winning the 2009 Best Single for "The Promise". Girls Aloud's col­lab­or­a­tions with Brian Higgins and his song­writ­ing and pro­duc­tion team Xenomania have earned the group critical acclaim, due to an innov­at­ive approach to main­stream pop music. The group has become one of the few UK reality tele­vi­sion acts to achieve continued success, amassing a fortune of £30 million by May 2010. Guinness World Records lists them as "Most Successful Reality TV Group" in the 2007 edition. They also hold the record for "Most Consecutive Top Ten Entries in the UK by a Female Group" in the 2008 edition, and are credited again for "Most Successful Reality TV Group" in the 2011 edition. In 2012 Girls Aloud have been named the UK's biggest selling girl group of the 21st century by the "Offical Charts Company".
On the cameltoe front, there's no sign of #totalnob.
BAD:
The Magic FM logo could do with some fairy lights like the Radio 1 one.
The angle of Kimberley's head is, again, a worry.
Nicola is not exactly smiling, but she def­in­itely looks happy to be there. This is not right.
NEW VERDICT:
We appre­ci­ate this spirited late entry from Magic but we'd say it's still a tie between Kiss FM and In:Demand.
UPDATE UPDATE UPDATE
UPDATE UPDATE UPDATE
UPDATE UPDATE UPDATE
UPDATE UPDATE UPDATE
What's that you say? Girls Aloud visited yet ANOTHER radio station yesterday morning?
7. Radio 2
GOOD:
Yet again, Sarah looks good.
Johnny from Radio 2 has an excellent "yes, it's just me and Girls Aloud, this is not an unusual occur­rence and is 100% casual" expression.
The Radio 2 'branding' is com­pre­hens­ive yet well-judged.
Kimberley's headtilt seems to be under control here.
Cheryl is touching Nicola's bottom.
BAD:
Nicola is half-smiling. A half-smile is almost worse than a full smile.
There's a TV screen stuck on the wall but it doesn't have anything on it. Not even the Capital FM logo.
The pho­to­graph is slightly blurred.
Where the fuck is Ken Bruce.
NEW VERDICT:
We're still going with Kiss FM and In:Demand for the winners here.