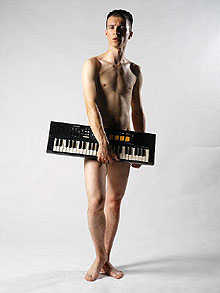 Answer: Yes.
'Relax' is one of those songs which is an example of 'Good Mika'. There is 'Good Mika' and there is 'Bad Mika'. All his hit singles so far have been 'Bad Mika'. We think you get the idea. Anyway Frankmusik (offi­cially quite good) has remixed 'Relax, Take It Easy' and has made it sound even better than it did before.
You can listen to the new version at Frankmusik's MySpace page.
BTW the picture accom­pa­ny­ing this story has been sent to us by the homo­sexual pub­lic­a­tion AXM, who shot 'Frank' for some sort of nude issue. By 'some sort of nude issue' we think they might mean 'people wearing pants but pre­tend­ing to be nude behind a piece of musical equipment issue'. But these are minor details.
Oh and Frankmusik is doing a pop concert next Wednesday which you should go to. There are details of that on his MySpace page as well.