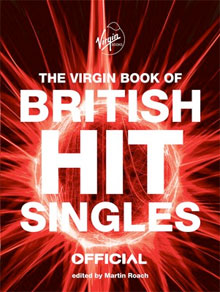 The legendary British Hit Singles book, which in a Mercury Music Prize fashion will always been known as the Guinness Book Of Hit Singles, has been away for a couple of years, but it's back now courtesy of new pub­lish­ers Virgin.
Here is the bad news: it is shit.
We appre­ci­ate that books like this with dwindling niche audiences must be put together on a certain budget but such little care and attention has been put into this that they might as well not have bothered.
The way the stat­ist­ics are presented is lazy and work­man­like (there's
no longer any sort of cross ref­er­en­cing between artists operating under different
pseud­onyms, for example) and the lifeless artist biogs scattered
randomly through the book without so much as a pho­to­graph or illus­tra­tion between them read like they've been put together with
Microsoft Word open in one window and Wikipedia open in the other. For
a book which is destined only to be bought by people with a real
passion for the intric­a­cies and finer details of pop, this version of
British Hit Singles seems stag­ger­ingly unin­ter­ested in its subject
matter.
The ponderous and entirely joy-free intro­duc­tion is so dull that you sometimes forget it's talking about music, the most exciting and brilliant thing ever invented. When
dis­cuss­ing the future of music, this intro­duc­tion asks: "So, what
does the future hold? If I knew that, I'd be too rich to spend time
writing books." That says it all. The person put in charge of the
British Hit Singles book is not doing it because he loves and is
pas­sion­ate about music. He's doing if for the cash. If he had enough money he wouldn't have to spend his time banging out shit like this. Christ this sort of thing's boring. Still, get the copy in on time, make sure you send a prompt invoice and you'll get the money by Christmas, right? Eggnog all round!
One would think that faced with com­pet­i­tion from an excellent, accurate source of information
like Everyhit — which sometimes adds its own editorial features and does so through a real passion for chart statistics -
Virgin would have pulled out all the stops for this new outing for the British Hit Singles book. Instead, it's chucked out a book which, if it was a pop single, would peak at Number 76. In other words, not a hit.
Still, it's a snip at £20 (TWENTY POUNDS).