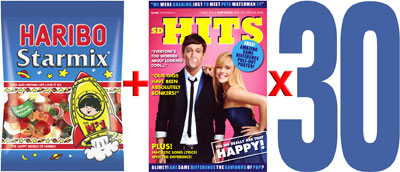 We've got some Same Difference shit to give away. There are thirty big bags of Haribo (pre­sum­ably there's some sort of 'deal' that's been struck, when we were in at the Sony offices the other week the place was awash with Starmix) as well as 30 mini magazines they've put together to celebrate how brilliant they are.
The magazine is made to look a bit like an old copy of Smash Hits, and while it might sound a bit odd to put together what is essen­tially a piece of pop pro­pa­ganda ('popaganda', if you will) the mag spe­cial­ises in the sort of unques­tion­ing, wide-eyed awe you'll recognise from the former pop bible's final days, so that's accurate enough.
We're giving the whole lot away to one person in one go so you can make yourself sick for an entire month but also, in between, have something to read.
If you'd like to win THIRTY HARIBOS AND THIRTY MAGAZINES email [email protected] (we've got into recycling, as you can see) and tell us which song Same Difference should cover for a future b‑side.