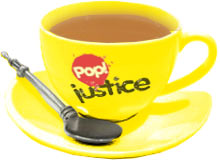 What's being listened to by people who aren't Popjustice.com? Let's find out…
Ben Silver, singer, Veto Silver
PET SHOP BOYS — 'I'M WITH STUPID'
"The Pet Shop Boys have gifted the charts with some of the greatest tunes in pop history. Thankfully 'I'm With Stupid' demon­strates they still haven't lost their knack of knocking out beau­ti­fully crafted four minute pop gems with a twist of social relevance as their ode to Blair and Bush is a perfect example of Neil Tennant's trademark lyrical content delivered with his usual high standard of elegance. A perfect fusion of dance, glamour, theatrics and wit that will seduce both hedonists and intel­lec­tu­als, with a fantastic 'Guantanamo chic' styled video to boot.â?
Laura Atkinson, features editor, Sneak magazine
PARIS HILTON — 'SCREWED'
"Firstly, it poos all over Nicole's pathetic singer/songwriter 'attempt' and, more import­antly, it's totally silly and over­pro­duced. Just like Paris."
Rob Fitzpatrick, editor, Channel4.com/music
UNION OF KNIVES — 'I DECLINE'
"Scottish people are often good at pop, aren't they? Anyway, I like UoK because Craig, Chris and Dave write the sort of music that is uplifting and depress­ing at the same time. Their album is full of inky black bits and great walloping shiny bits. If they were an animal they would be a giant ant-eater because I saw one of them at the zoo last weekend and it was shocking and wonderful and strange and a bit creepy."
Arjan Timmermans, blogger, Arjanwrites.com
TEMPOSHARK — 'JOY'
"I heart the new Keane album 'Under The Iron Sea' but it is Temposhark's new single 'Joy' that has all the right pop ingredi­ents to stir up a peppy brew. Embraced by Guy Sigsworth and Imogen Heap, the three Londoners present fun, synth-driven pop that takes you straight back to the 80s. Their new single 'Joy' (out May 15) is a throbbing slice of dirty synth pop that has all the potential to become a dance­floor favorite this summer. Wait till you hear the mixes. Yummy." (Arjanwrites.com is hosting a free — legal — download of this track until Friday.)
Send in your own PJ Tips! Chuck them over to the usual address — [email protected].