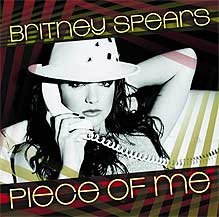 After the unin­ten­tion­ally comic MTV Awards per­form­ance and the shambles that was the 'Gimme More' video, one might expect that Britney has been watching the word 'cho­reo­graphy' rapidly ascending to top of her to-do list.
PREPARE YOURSELF FOR BRITNEY-RELATED WOES.
The 'Piece Of Me' video largely consists of Britney wandering around looking unsure of herself in front of a giant wall covered in lights — something most of us do every Friday night. The rest of the video sees Britney looking uncom­fort­able at a party and/or coming to terms with the fact that someone has put special effects into her video.
However, there is a brief glimpse of a lady's bottom and, to the director's credit, the video is edited to the point of being almost good. The Bimbo Jones remix is totally amazing too btw.