What have we learned from the new Top 40 singles chart?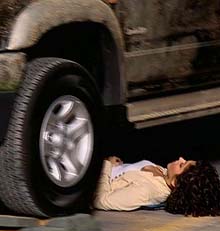 Number One: The pre-Christmas number one is a miserable duet between a dead lady and Katie Melua which you could only buy from Tesco. So it's less 'Happy Shopper', more — wait for it — 'UN-Happy Shopper'!! LOL

Number Two: It's all over for Leona Lewis.

Number Four: This will be nowhere to be seen in the Top 40 in less than month. Right now, it is probably the best song in the Top Ten, although whether Mariah Carey is aware that she is selling singles again is a mystery.

Number 10: Even the gays have to celebrate Christmas.

Number 20: This year's festive surprise is that nobody likes Shaun The Sheep.

Number 32 & Number 39: It is the wrong time of year for indie – although the Foals single is quite good. The Stereophonics single, however, is less good, and in fact is bordering on the execrable.

Number 68: The Booty Luv festive offering is still being, well, 'offered'.
Leon Jackson will be Number One next week. At a guess.