Last week we asked you which song — the fourth best pop song of 2007 — connected each of these pictures.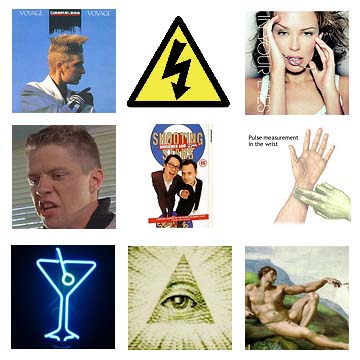 The answer is 'The One', which is Track 7 — and the only big gay proper pop song — on Kylie's new 'X' album. It is sort of a cross between 'I Believe In You' and S Club 8's 'Fool No More' and you know within the first two seconds of your first listen that it's the album's best track. We really want to play you a clip of it but we are not allowed. Here is what it looks like, though.

Here are a flimsy set of explan­a­tions for the pictures we chose…
1. The intro sounds a bit like the opening of the 12" PWL mix of Desireless' 'Voyage Voyage'. This is what the opening of the 12" PWL mix of Desireless' 'Voyage Voyage' sounds like.
[audio:voyagevoyageclip.mp3]
2. "There's a certain something in the air, can you feel what I feel in me, it's in the air, elec­tri­city." That's a lyric from the song, you know.
3. "I can see the look that's in your eyes." This is probably a very post­mod­ern reference to 'In Your Eyes' by best-selling lady pop warbler Kylie Minogue.
4. This is Biff from Back To The Future. A producer called Biff was partly respons­ible for this song. Biff is famous for making all those hit 2wo Third3 records in the 90s, and also did a couple of Spice Girls songs.
5. "Like a shooting star in a galaxy, making its way to the heart of me." AMAZING.
6. "My pulse is racing and I'm feeling high." ALSO AMAZING.
7. "Glimmering under neon lights." BEYOND AMAZING.
8. This eye in pyramid nonsense is something to do with free­ma­sons. The Freemasons join Biff on co-pro­duc­tion duties. (NB: It doesn't sound like a Freemasons song.)
9. The best line in the song is "it's a feeling that I need to know, close to touch like Michelangelo" which we presume is refering to this piece of 'art' although we might be mistaken.
A few people on the Popjustice forums managed to work it out thanks to the Biff and Freemasons pictures, so well done to them.
The most amazing thing about the song (apart from brilliant tune, shit-hot pro­duc­tion etc etc) is a really really clever structure which gradually unveils a killer chorus as the song unfolds, but also has another chorus chucked in for good measure. Basically after the Desireless‑y intro bit it goes like this.
- Chorus A — instrumental
— Verse
— Chorus B which is basically Kylie going on about "I'm the one, love me love me love me love me" etc.
— Chorus A with "ah-ah-ah-ah" floaty bits in it
— Verse
— Chorus B
— Chorus A with full-on "can you hear me, I'm connected with you can you feel me I'd do anything to have you near me" vocal.
Then it all drops out and clatters back in with all the choruses going com­pletely mental. It's all about 'Chorus A', viewers.
If this being track 7 on the album means it's going to be another 'Your Disco Needs You' — ie a potential Number One single which isn't ever released as a single — we're going to EMI and killing everyone with our bare bands. You'll be with us…