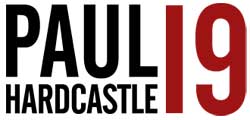 Paul Hardcastle has knocked up a new version of '19', the tune that kicked everything off for Simon Fuller (amazing) in the 80s and whose lyrics, Hardcastle noticed while watching an Iraq doc­u­ment­ary on Sky recently, are as pertinent now as they were 25 years ago.
"It seems to me that history keeps repeating itself," Hardo notes in a press release we were sent yesterday afternoon. "Every time I read a newspaper or watch the news it all sounds too familiar." You can read more about '19' on Paul Hardcastle's website.
The new mix thing is out on April 19 (do you see what they did there etc) and there is a spooky ambient 'trailer' on YouTube.
httpv://www.youtube.com/watch?v=ohjXTFTT8c8

We hope the proper full-on version is a bit more 'full throttle' in the tempo stakes: in common with 'Do They Know It's Christmas?' the good thing about the original '19' was its belief that ser­i­ous­face lyrics needn't neces­sar­ily get in the way of dance­floor action. That's the problem with the Helping Haiti single. Well, that and 'the presence of James Blunt'.
Funnily enough we were watching TV recently and, like Paul, found
ourselves moved to record a song. Thus we can exclus­ively reveal
details of our new single 'Don't Go Out On The Lake Joe (Drowning Is
Too Good For You, The Worst Soap Character Of The Last 1000 Years)', a
moving YET DANCEABLE tribute to (THAT'S ENOUGH OF THAT THANKS — ED)
In other Paul Hardcastle news, this is still amazing.
httpv://www.youtube.com/watch?v=lYraZHvoq_k

Thought For The Day
"If it wasn't for the Vietnam War, 'Spiceworld The Movie' might never have existed."