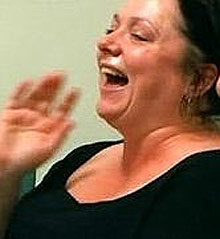 This woman is your next X Factor judge. >>>

FIVE REASONS ROSEANN MCBRIDE OFF 'TOTALLY BOYBAND' AND 'TOTALLY SCOTT-LEE' SHOULD BE THE NEW X‑FACTOR JUDGE
1. Having worked not only with Lisa Scott-Lee and Upper Steet but also with a pro­ces­sion of pop losers so devoid of success they make Rosie Ribbons look like John Lennon, Roseann is ideally placed to coach X Factor losers in the ways of The Dumper.
2. Once she takes her 'act' back to Concept Records at the end of the series, the depress­ing struggle to spark any small flicker of interest in the act is A TELEVISION PROGRAMME IN ITSELF.
3. She would not get on AT ALL with Sharon Osbourne and they would always have arguments. It's as true on TV as it is in real life: women arguing is always HILARIOUS.
4. She will probably do that thing where she's shouting and screaming one minute and then the next thing you know she's cryin' and a‑hollerin'.
5. Faced with your (ter­min­ally) average Saturday night live show per­form­ance, she would not say "you really gave that 110%" or "you really made the song your own". She would say "that was fucking shit and I said from day one you shouldn't be in the finals".
Simon Cowell this woman is pop­tele­vi­su­lar GOLD and you need her behind your X‑Factor desk pronto.