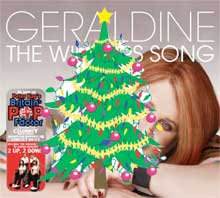 It's a Christmas song about Christmas songs not being what they once were.
"These songs brought us together, good time memories forever, now I
know what they mean and what they've given to me I would never believe
— we'll be singing them over and over and over again, every December
they get in our heads." We suppose it's a lot like a festive version Morris Minor & The Majors' PWL satire 'This Is The Chorus'.
Sleigh bells, brass section, false end, etc etc.
Amazing chorus.
The single's out the same week as the X Factor winner so we guess this'll be the 'altern­at­ive' (ie released by Universal, the world's biggest music company) release.
Should have been called 'The Christmas Song'.
We're going to the pub.