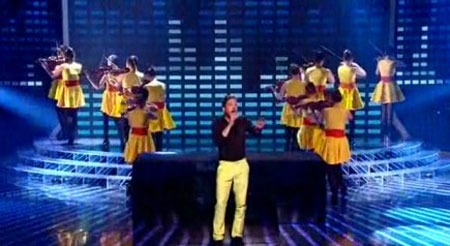 An appeal for calm at a difficult time.
We know it might be tempting to look at Matt Cardle's Number 6 chart position and say, well, he deserved it. You might want to say "this guy did everything he could, short of taking a shit on the stage during last week's launch per­form­ance, to distance himself from the only reason he was popular".
But if you think about it a Number 6 chart position for a second single is a great achieve­ment. Look at all these credible acts.
LED ZEPPELIN
Never scored a single Top 20 single, let alone smashed the Top 10 like Matt Cardle.
THE STONE ROSES
This lot's Top 40 career saw singles peak at Number 36, Number 8 and Number 20 before they even­tu­ally got into the Top 5. And their first album is often cited as one of the best of all time! This bodes well for Matt Cardle's own debut.
PINK FLOYD
Their second Top 40 single got to Number 6 — making Matt easily as credible as the 'Not Now John' hitmakers.
TRAVIS
It took Travis a huge ELEVEN attempts to get a song higher than Number 8. Perhaps because, like Matt Cardle, their uncom­mer­cial rock sounds were just too heavy for daytime radio. But Matt took his own uncom­prom­ising sounds to Number 6 far more quickly.
As you can see, Matt has already done better than all those artists, so there is no reason for him to feel that a Number 6 hit — after one of the biggest music industry launch campaigns of the year and a per­form­ance on the show he won less than twelve months ago — is in any way a failure.
Actually, if you think about it, it's a success! Matt has been very clear that he wishes to be taken seriously as a real credible artist, and it's far more credible to have had a Number 6 hit than, for instance, to have had the sort of pathetic Number One success enjoyed by someone like Shayne Ward.
What's really great for Matt is that if his album performs as well as the single, pretty soon he'll be able to explore the world of inde­pend­ent music, which will be a great way for him to really explore his musical gift. This really is the start of a long credible career for Matt Cardle, so if you're thinking of being mean about him today, just remember that he'll have the last laugh!