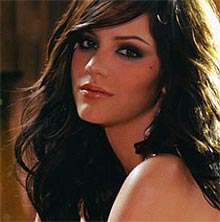 » It is today's Song Of The Day.
» It's called 'Over It' and it sounds quite a lot like Jojo's 'Too Little To Late'.
» It is not a complete carbon copy of the Jojo single because despite being basically the same song it is THREE TIMES BETTER. Also it is sung by someone reas­on­ably unugly rather than a dwarf with an outsized head.
» It has been on the Popjustice office stereo at least once a day for what seems like an eternity.
» The best thing about the promo CD single we've been sent is that track two is a ten-second 'callout hook' (like the Avril one here), meaning that when the radio edit has finished we are treated to a quick and untrum­peted burst of the chorus. It is a bit like an encore, but on a CD. We demand more encores on CD singles.
» The video is eye-water­ingly shit, but you can't have everything.
» The album's not exactly the greatest thing in history, either, although it sounds like a work of genius next to the new Kelly Clarkson 'opus'. Maybe it needs a few tries instead of our handful of abortive attempts at listening which all ended up with us flicking back to 'Over It' within twelve seconds of any other song starting.
» It's out over here at the end of July having been knocking around in far-flung places like 'America' for a very long time.
» We realise none of the above is really what you might term 'news' but sometimes it's good to take a breather and just catch up on things, don't you think?