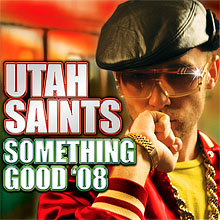 » It is 16 years old and also one of the best dance records of the new mil­len­nium, much as it was one of the best dance records of the boring old millennium.
» It has not got better with age — it has merely followed a steady tra­ject­ory of amaz­ing­ness over the course of time. (ie It has been remixed.)
» There is a Welsh angle to the video and Duffy is Welsh so if Utah Saints knock her from the Number One spot next week that will be inter­est­ing or something or maybe not.
» In the same way that Girls Aloud's version of 'Jump' removed most of the good bits from the original and managed to make even better new bits, removing the 'Utah Saints' chants from the new remix and putting in a few new bells and whistles has put the new version of 'Something Good' into an almost com­pletely different realm of amaz­ing­ness to the original.
» Here is a little reminder of the original video and here is the new one. Very funny. Here is Kate Bush's 'Cloudbusting' video too, just in case you wanted to hear her sing all the other words (including Algernon, daddy and yo-yo).
» The new video has at least given local radio something to fill their days with.
»
The video has also suc­cess­fully got Utah Saints out of having to do any rubbish club PAs because they can send a load of dancers to do the running man for ten minutes and still get paid for it. KERCHINGETC.
» It is already in the Top Ten 'on downloads alone'. A year ago this sort of thing would guarantee something very impress­ive indeed pos­i­tion­wise the following week, but these days it's anyone's guess what will happen to the song now it has 'gone physical'. (If any of you would like any more of this in-depth chart analysis just get in touch at the usual address.)
» If another song from the 'Something Good' era was going to be remixed and rereleased, we would like to nominate Felix's 'Don't You Want Me' for the honour.
» Isn't it odd how dance songs can be released on numerous occasions and still be popular? The same couldn't be applied to, say, a slightly different version of China Black's 'Searching'.
» Anyway 'Something Good 08' is the best new single in your shops this week, well over a year since we first mentioned it on Popjustice. Although it wasn't called 'Something Good 08' back then because it was 07 in those days. Hurrah.