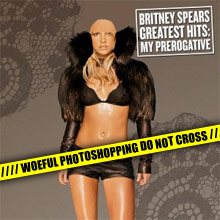 Britney's greatest hits album sold 406 copies yesterday, meaning that it's Number 111 in the midweeks, re-entering the album chart for the first time in ages.
FACT: 406 people have seen Britney with no hair and thought to them­selves, 'I must own her album'.
Compare this with sales of songs performed on TV shows — the tracks performed on Soapstar Superstar, for example — and it's clear that while tracks being aired on TV or the radio can help drive sales, in terms of one-off, isolated incidents shifting units, you can't go wrong with sudden and dramatic loss of hair.
A full body wax could probably get you in the Top 5.
SOMEONE GET LISA SCOTT-LEE SOME VEET!!11!!!!!