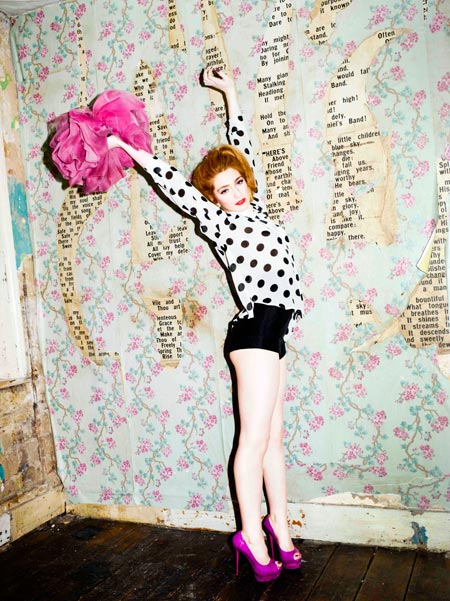 "So," someone asked us recently. "Do you think you're going to put Nicola Roberts back in the PJ Almighty?" Well the answer, as it turns out, is yes. Not just once but five times. Numbers one to five: Nicola Roberts, Nicola Roberts, Nicola Roberts, Nicola Roberts, Nicola Roberts.

Reasons for this include:


1. Her first single 'Beat Of My Drum' sounds like Daphne & Celeste vs Major Lazer vs Girls Aloud. It starts off outlining Nicola's early days in The Aloud ("two left feet I had no beat, baby in the corner keep up, keep up"), swooshes into an elegantly bonkers pre-chorus ("oh, don't it make your heart go wow, how I've turned this whole thing around?") then bursts into a massive chorus of "L! O! V, E! Dance the beat of my drum! Dance to the beat of my drum!" Like some of Nicola's other new songs it's a bit about what happens when you lose your con­fid­ence and a bit about what happens when you get it back and decide to run riot.

[youtube]_Vgl_E_Amrg[/youtube]


2. We've been able to get to know six songs from Nicola's album and they seem to be getting better with every listen. There is a depth and a humour to Nicola's lyrical imagery, and there's a warmth to the tunes that makes repeated listening a rewarding exper­i­ence. The tunes are great and her vocals — singing, rapping, speaking, screaming — are top notch. Chuck this all together and the result is something really unique and interesting.


3. The col­lab­or­at­ors — Diplo, Dimitri, Metronomy and so on — might suggest like a departure from Girls Aloud, but there's more Aloud in these tracks than in any other post-Aloud solo album. A Metronomy song sounds a lot like Metronomy, of course, and a Dragonette song sounds a lot like Dragonette, but there is a really strong identity (Nicola's) draped across the top of the whole thing. A couple of the songs sound unlike anything we've heard before, not in a self­con­sciously odd way but in a way that feels com­pletely natural.


4. "Too young to buy my own bottle of vodka so I begged the driver, 'please I need another'. How funny that I was too young for so many things, yet you thought I'd cope with being told I'm ugly over and over. I'd read it, believe it, said no to the shrink. I can fix it, I think…" THAT IS A LINE FROM A POP SONG. A POP SONG BY NICOLA ROBERTS. (Do not listen to that song with a hangover or if you're on a comedown or you will cry a bit.)

5. One of the rap bits we like on the album reminds us a lot of that great 'The 80s'/'The 90s' double-mas­ter­piece from Robbie's 'Rudebox'. Fast-forward to The 00s, swap Stoke for Runcorn and you've got "so I was just a shy girl from Halton Brook, I would write all my dreams down in my storybook, we didn't have many pennies, used to sit round the telly, never been wrapped up in the way I look. So when I got down to London had the press on my case because I didn't walk round with a smile on my face…" You get the idea.

6. "I'm the kind of girl that likes to dream a lot, lose myself staring into my coffee cup." "I don't want them to see they're making it hard for me, at home I cry." "When you've no-one's hand to hold, sticks and stones hurt just a little." "I'm scared of ghosts." "I hope that one day we'll stop striving for per­fec­tion, I hope that everybody likes my new direction." THESE ARE ALSO LINES FROM POP SONGS BY NICOLA ROBERTS.

7. There is a reference to the now legendary 'rude ginger bitch' Matt Willis feud of 2003.

So how's this all going to pan out?

Well, beyond those of us who crumble the merest hint of "hello, did you call me", there's no proof that Nicola is yet quite as cherished by the world at large, so it's hard to say whether an initial burst of excite­ment from the Nicorati will give 'Beat Of My Drum' the chart­wards shove it needs and deserves. Having said all that, if the last twelve months have taught us anything about Girls Aloud solo careers it's that you can't take anything for granted, and perhaps the longer the odds, the more exciting the win might be. Anyway the sales and the chart positions are for someone else to worry about. On the basis of what we've heard it seems like Nicola's made the album she wants to make — a really smart, confident, slightly eccentric and very British-sounding pop record — and for those of us who've been waiting since 'River Deep, Mountain High' for a Nicola Roberts solo album, it feels like everything we could have wanted.

HARD FACTS
Single: 'Beat Of My Drum', June 5
Album: Autumn
Site: http://www.nicolarobertsmusic.com
Twitter: http://www.twitter.com/nicolaroberts

Edit: Here's a press release that was sent out this morning.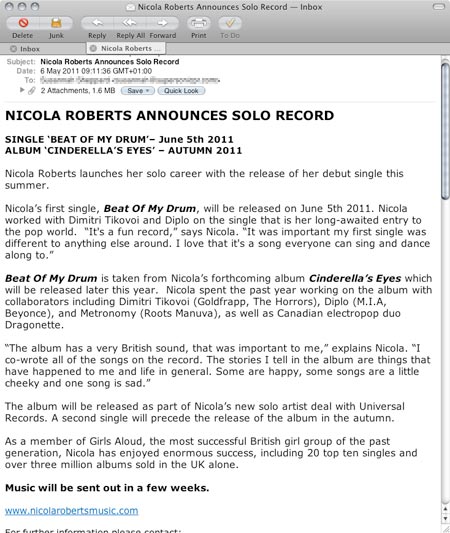 EDIT 2: The full http://www.nicolarobertsmusic.com site is now live. HURRAH.