Here at Popjustice we've always felt that the best way to pass judgement on pop music and the per­son­al­it­ies behind it is to stand on the sidelines shouting and pointing with no real under­stand­ing of how any of it works but if we did know one end of 'Pro' so-called 'Tools' from another we would probably be dusting off the old CV right now because how's THIS for a job ad: there's a place going as engineer/assistant to Dr Luke.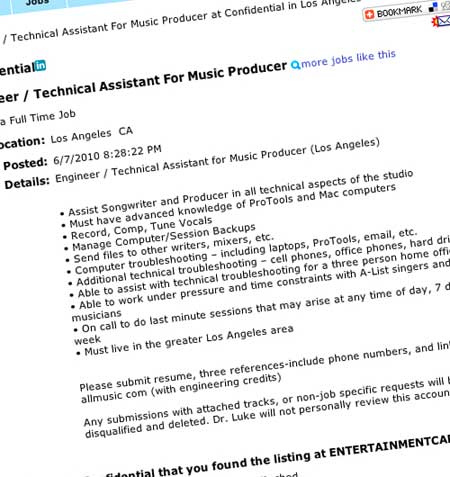 If you are not familiar with Dr Luke's work, well, you are familiar with it because it's every­where. (Wiki details here.)
Imagine the job.
Day One: arrive, bang on about how amazing 'Just Want You To Know' by Backstreet Boys was, state that it should have done better than it did. Upload a couple of files to YouSendIt.
Day Two: arrive, ask if there was any hidden meaning in Kelly Clarkson's 'My Life Would Suck Without You', embark on lengthy critique of Ke$ha album, pon­ti­fic­ate wildly re the cultural impact of Sugababes' 'About You Now', backup a hard drive.
Day Three: arrive, stand on mixing desk shouting Avril Lavigne's 'Girlfriend' at top of voice, be sacked.
» The job ad if you actually do want to apply
» Dr Luke on Twitter