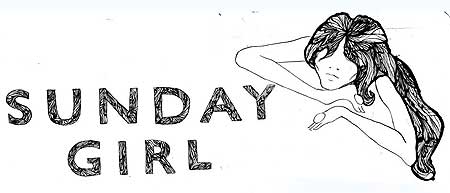 Remember Sunday Girl, the rather good new Jim Eliot-produced songstrel we wrote about back in March? Well, there's more to come — and some pretty big stuff at that — but to keep things ticking over she's covered Laura Branigan's 'Self Control'.

Yes we know that the last thing the world needs is another cover version by an up-and-coming artist but at least it's not acoustic. It is, in fact, all rather listenable.

[youtube]LaoHrqc04Cs[/youtube]Her website, which it's worth book­mark­ing because some of what's coming up from this artist really is quite spec­tac­u­lar, is full of amusingly well-judged comments like "Iv just redis­covered this Elvis song. Iv added it to my dj set" and "It was my friends birthday so i made him this deer card" and "So far i have done all of Sunday Girl art work. My inspir­a­tion for
these were elongated bodies of fashion drawings, Art Nouveau, 60s and
science prints of tissue and muscles".

You get the general idea, right?