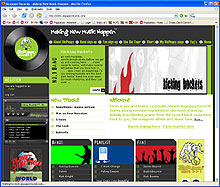 Viewers, what does the phrase 'unsigned music' mean to you?
Does it mean 'an exciting new world of undis­covered tuneage just waiting to be heard, if only the evil 'n' clueless music industry would just give everyone a chance'?
Or does 'unsigned music' mean 'a world of unlisten­able noise, latched onto by pod­casters who can't clear music from major labels, as well as a seemingly endless pro­ces­sion of 'brands' and 'companies' desperate to convince a very advert­iser-friendly demo­graphic that they are into music when in fact all they are bothered about is making money and if they were honest about it they'd admit that 99% of all the unsigned music they are cham­pi­on­ing is unsigned for a reason — it's shit'?
If you're thinking more along the lines of the latter, there is a new service which has been set up by someone who basically just fucking loves music and is, for that reason, a brilliant thing.
Sicpuppy Records is the work of James Bourne Out Of Busted Out Of Son Of Dork. You can do things like vote for bands and be friends of bands and things like that. James is the head of A&R and while we would not like to try to second-guess the criteria James is using in this venture we think it's fair to say that if you sound 'a bit American' you might be in luck.
Log on at www.sicpuppyrecords.com.