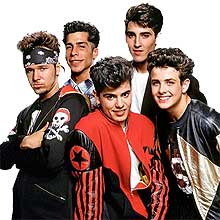 Some people are very excited about the imminent return of New Kids On The Block. But who were New Kids On The Block — and what does their return mean for you?
» New Kids On The Block invented the concept of the modern boyband, paving the way for Take That and Freefaller.
» Danny Wood was in New Kids — long before the multi-platinum success
of Upper Street. Other band members included Jordan Knight, Marky
Mark's brother, The Prototype Mark Owen and Jon With The Pointy Face. You can see in the picture here that Jon was the odd one out, as all other band members had their hair pointing upwards, although Jon now has the last laugh because by wearing his hair 'down' he effect­ively invented emo.
» The band were from Boston. Other bands from Boston include Boston.
» New Kids were managed by Maurice Starr. Maurice found fame and fortune when he invented Bobby Brown as part of New Edition but when New Edition went tits up Maurice decided to quite literally find a 'new edition' of New Edition. He decided that they should be white and called New Kids On The Block. New Kids On The Block were called New Kids On The Block because they were the 'new kids' (a new band) on 'the block' (on the musical scene). Starr did not have any sig­ni­fic­ant successes after New Kids On The Block because he could not think of any other band names beginning with the word 'new' and is currently 'MAD AS HELL' at the success of Newton Faulkner.
» The first New Kids album flopped but they started selling records when Joey from the band became fit.
» Although the band sold over 70m albums you won't hear many of their hits these days — this is because without exception every single one of their releases was abso­lutely shit. This is 'Step By Step'.
httpv://www.youtube.com/watch?v=GQ5eZSa7URA

That, ladies and gentlemen, was a Number Two hit single.
» After the band split, Jordan Knight released a really good single called 'Give It To You'.
httpv://www.youtube.com/watch?v=tyhwEG2Pd5M

Tragically, the video featured Jordan wearing a woolly jumper under a leather jacket and his career failed to take off as a direct result.
» When they were bored of being popular, New Kids On The Block sacked their manager, changed their name to NKOTB because they were adult artistes and decided to make Serious Grown Up Music. This Serious Grown Up Music took the form of a song called 'Dirty Dawg', a number so unut­ter­ably terrible that every member of the band was sent into space as a pun­ish­ment, only being allowed to return to earth for appear­ances on low rent reality TV shows.
» Now they are back from outer space. We suspect the return of New Kids may have slightly more impact in the States than in the UK. Then again who can predict the bizarre fancies of the British record buying public.
And that, viewers, is all you need to know about New Kids On The Block.