Well viewers, this one is going to run and run (ie probably end today). The story so far:
1. We asked for some pro­mo­tional mugs.
2. The Beautiful South sent in one mug.
3. 'Jackie — The Album' sent in four mugs.
4. We wrote a thing about the 'deluge'.
So what arrives in the post today? Another FOUR mugs from The Beautiful South.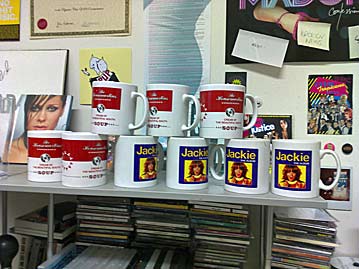 They're upping the ante. The leader board is currently this:
Beautiful South mugs: 5
'Jackie: The Album' mugs: 4
This could all change tomorrow. 'Jackie: The Album' — the ball is in your court. You need two mugs to take the lead.