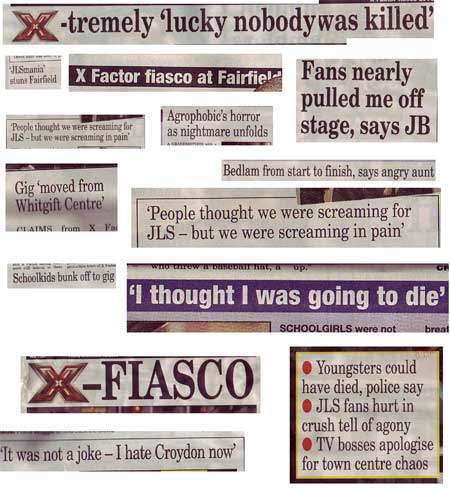 Just a few of the headlines covering last week's concert by JLS in which, er, five people were injured.
Can you guess which headlines come from which publications?
Well, amazingly, every single one of those is from the SAME COPY OF ONE PUBLICATION. Step forward, The Croydon Advertiser, who managed to splash this story — five people hurt, remember, one of them treated for a poorly hand — over pages 1, 10, 11 and 12. It's local news reporting at its very best — we think our favourite is 'Agrophobic's horror as nightmare unfolds' which tells the story of "a grand­mother with a fear of open spaces" who "has been left trau­mat­ised after a first tentative trip beyond her street ended in disaster". "It was not Fairfield's fault," she notes. "It was The X Factor's."
Amazing.