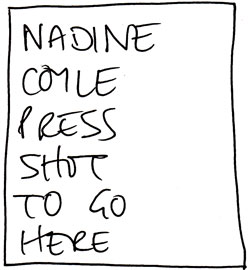 The run-up to the release of Nadine Coyle's solo album, solo single, solo ANYTHING has been so drawn-out and fraught with panic that it makes The Wanted's now legendary single campaign look like a whimsical three-day jaunt.
We heard one of her demos several months ago and it was — we'll be honest here readers — bloody boring, but under the expert guidance of manager 'Big Apple Bruce' she's been in enough studios with enough producers and enough writers for enough time to have either acci­dent­ally sung the entire works of Shakespeare or, hopefully, taken her musical endeav­ours in a rather different direction.
In fact, as if by magic (or 'Nadgic' — we're talking about Nadine here hahahaha) here's some inform­a­tion from the Popjustice forums.
[I recently] got to hear 3 of Nadines tracks [and] all 3 of the tracks are potential singles and supris­ingly VERY good. I was a bit of a GA fan, but up until now had no interest in any of Nadines solo plans.
One track was something about a person being insa­ti­able and it was quite catchy. The 2nd track was possibly called 'Changed / Change Me' and it was my favourite. The 3rd was a William Orbit track and it had elements of 'Untouchable' moments. It was a bit more ballady than the other 2, but it was definetly not a slow love song. It was quite nice but the 2nd track was the one that I could visualise hearing on the radio.
The expected? Very big vocals from Nadine. The unex­pec­ted for me? I think I will actually really like solo Nadine. She is pretty damn good.
Yes, single goes to radio in September and album out in November.
So there you go.