Well, imagine no longer, because there IS an artist called Laura Comfort and she has the answer.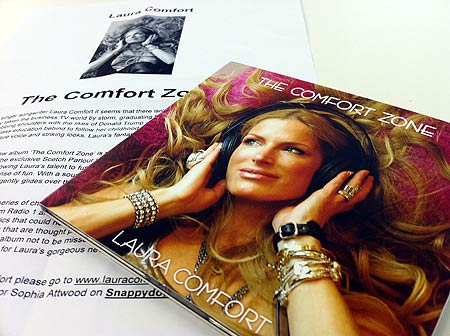 'THE COMFORT ZONE'.
It also comes with an aston­ish­ing press release. Every sentence is a winner but our favourite is the one that begins paragraph two. We know release dates are exciting but rarely do they warrant an exclam­a­tion mark. Make no mistake, this is an exciting release date.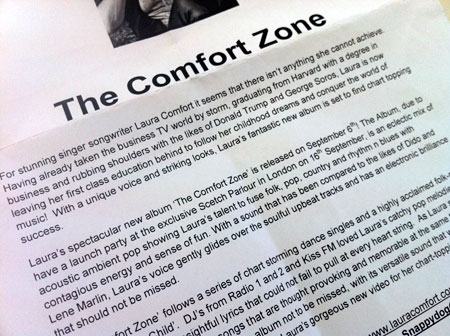 We also like the reference to 'The Album' — as if this is somehow more
than a lower case album and is, instead, 'an Album'. Additionally, it's
always good to start off a press release with details of an artist's
qual­i­fic­a­tions. In fact why stop there? Why not include a full CV? Does
Laura Comfort have any swimming cer­ti­fic­ates or an unblem­ished driving
licence, and does she show a keen interest in sports and socialising?
The music's actually pretty good — most of the songs sound like demos rather than anything near a finished product but there are moments that should appeal to fans of 'Ghosts'-era Siobhan Donaghy (and anyone who isn't a fan of 'Ghosts'-era Siobhan Donaghy should frankly be put up against a wall and shot) and the whole thing is all rather cha­ris­matic and likeable. You could even say she's a Laura to herself!!! (Law unto herself.) (That's the next album title.)

Further reading:
Laura Comfort official site
Laura Comfort MySpace