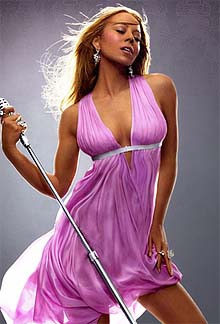 Who have the good people at Radio One decreed worthy of repeated plays on the nation's airwaves?
Well, let's have a little look.

Bullet For My Valentine — 'Hearts Burst Into Fire'
The con­tinu­ing career of Bullet For My Valentine continues unextinguished.

Mariah Carey — 'Touch My Body'
It's not in the same league as 'Hero' but if you are a big fan of Mariah Carey songs such as 'It's Like This' or 'Shake It Off' you will probably find 'Touch My Body' to your liking. Click here for much video hilarity.

The Courteeners — 'Not Nineteen Forever'
More upbeat indie from men who do not bother to shave.
Newton Faulkner — 'I Need Something'
Ironically, the last thing needed by anyone with ears.

Kate Nash — 'Merry Happy'
It doesn't matter if your new single is a com­pletely chart ineligible EP — if you have been given a Brit Award and are 'on message' then national radio play is a given.

Snoop Dogg — 'Sensual Seduction'
The best Snoop Dogg single in the history of Snoop Dogg singles.

The Count And Sinden feat Kid Sister — 'Beeper'
'Beeper' is quite good due to the presence of Kid Sister, who we have mentioned before. In fact, here is the video for 'Beeper'.
httpv://www.youtube.com/watch?v=GUZCV95SCXE

As is blind­ingly obvious, Kid Sister makes a brilliant pop star and with this has beaten the similarly amazing Lil'Mama to getting a single onto the British airwaves. Also obvious is that the rest of the song is remark­ably shit. So there you go.