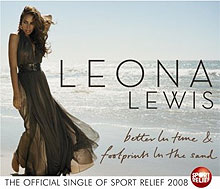 Well, it's all kicking off for the next Leona Lewis single, a double a‑side of 'Better In Time' (amazing) and 'Footprints In The Sand' (boring).
As you can see from the single sleeve (right) they haven't skimped on the symbolism, with Leona pictured quite literally walking along some sand and therefore leaving some FOOTPRINTS in that SAND. What you can't see is that moments after this picture was taken Leona stepped on a washed up jellyfish and the pho­toshoot ended messily with Simon Cowell pissing on the talented warbler.
What's happening in the 'Footprints In The Sand' video? Well, Radio One's website have got the exclusive and it's The Official Single Of Sport Relief 2008, so it's an emotional affair.
| | |
| --- | --- |
| | To start with, what you can see here is that Leona has 'eschewed' her posh frocks and ballgowns in favour of a simple vest. This is to prove that this soberin' 'n' thoughftul video is not about frills and nonsense — it is about reality and being very serious. Leona is talking to us plainly about issues. These do not need dressing up. Pay attention etc. |
| | Here's a child on a rubbish dump. Do you have to go to rubbish dumps? No you do not. You sit there with your nice iPods in your com­fort­able homes listening to music while on the other side of the world people have to be on rubbish dumps. This poor boy may not find an iPod today; he may only find a Zune, or a Creative Zen Jukebox Thing. Should people really have to live with this misery? |
| | Here's a kid sitting on a pavement as traffic whizzes past. With your money, they could afford a deckchair. |
| | Oh dear — something sad has happened. There has been some terrible, terrible news. This person has just learned that Leona did not win ANY of the four Brit awards she was nominated for. |
| | Old white people can be sad too, you know. |
| | This poor chap is severely undernourished. |
| | News of Leona's Brits snub is spreading quickly. |
As you can see, so far the video has been very emotional and sad. By this point we are about two thirds of the way through the song, which means… IT'S TIME FOR A KEY CHANGE.
But how important is a key change, and how does it influence people? Let's have a look.
| | |
| --- | --- |
| | Smiles! This adorable kid loves key changes. She's thinking about Westlife standing up off stools, cameras swooping over clifftops, and fireworks going off. |
| | Football! Football = happiness. |
| | Running around! This girl can't wait to get back home to tell her family all about the amazing key change she has just heard. |
| | Mathematics! (!?) |
So there you go. Keychanges really can save lives. You can click here to watch the video in full, and click here to find out more about BBC Sport Relief. Don't forget to buy Leona's single when it comes out — profits are going to charity, and we imagine the label will also be donating a pro­por­tion of the extra money they make when the Leona album gets a sales boost from all the primetime TV coverage.