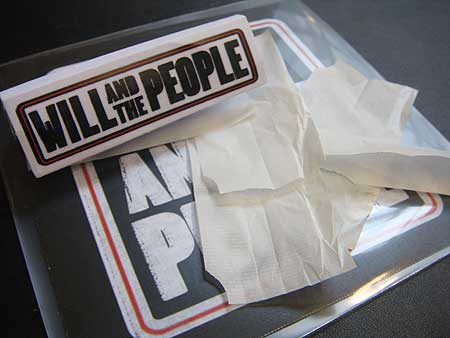 We got some pro­mo­tional Rizlas in the post a week or two ago. They're promote a new ska pop band, signed to RCA, called Will & The People. The band recently supported The Script on tour, they met at Brighton college (SOUND THE LEVELLERS SIREN), and their drummer is called Max Tempo.
Yes, blimey indeed.
We've been getting pro­mo­tional Rizlas in the post for well over a decade, now, and they continue to amuse. The idea behind the pro­mo­tional Rizla — and by Rizla we do of course mean 'generic cigarette paper' — is that the person sending out the Rizla is saying, "person in the media — you like a bit of a smoke. We know you like a bit of a smoke. You know you like a bit of a smoke. You, with your 'cannabis', are a cool 'n' happening sort of person. You love music! Why not 'skin up' while you're listening to some great new tunes?". There is just one flaw in this scheme, which is that while the recipient might be flattered at the sug­ges­tion that they are 'cool', it is a sad fact that people who smoke the illegal falling asleep drug cannabis have notori­ously terrible taste in music.
The arrival of pro­mo­tional Rizlas does, however, mean that one can play 'the Rizla game' with Cliff Richard 7" picture disc singles.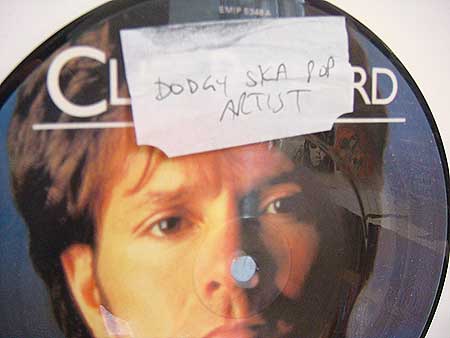 We'll give you three guesses.