We went to a 'Hard Candy' album playback yesterday evening. Playbacks are great because there is booze and food and the music is played quite loud — factors which, when combined, ensure that everything sounds better than it actually is.
These leaflets (click to enlarge) were lying around.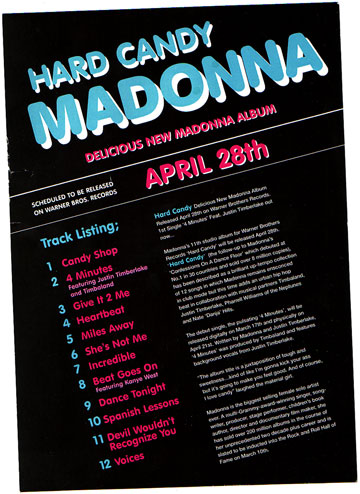 Let's have a look at this again.
"'The album title is a jux­ta­pos­i­tion of tough and sweetness.. Kind of like "I'm gonna kick your ass but it's going to make you feel good". And of course, I love candy,' laughed the material girl."
'Laughed the material girl'? What is this, a local TV news report? Christ alive.
Anyway the album's brilliant (see our extensive review) but of course what you really want to know is whether the playback was festooned with loads of 'Hard Candy'-inspired nonsense. The answer is yes. As well as loads of massive 'candy canes' and the like, the entrance featured this 'amazing' (slightly unnerving) picture of the album sleeve, made out of jelly beans.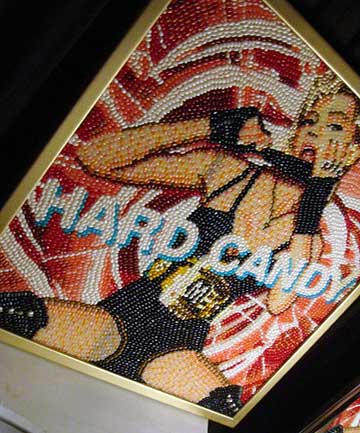 Let's take a closer look.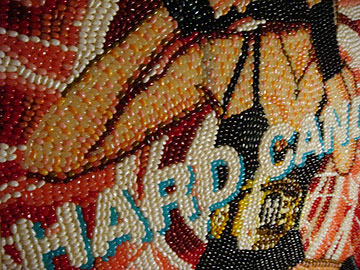 Let's take an even closer look.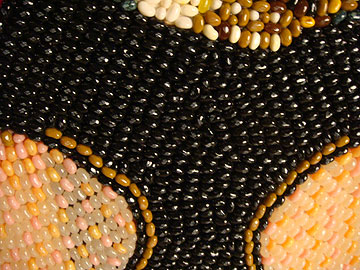 On second thoughts, let's not. :(