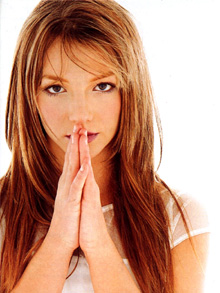 Okay, this is a slightly odd Britney Spears (pictured, yesterday) com­pet­i­tion for a Friday afternoon…
We're off to SonyBMG on Monday to listen to the new Britney album and the relevant bigwigs have said that we can take one Popjustice viewer along with us.
If you'd like to be join us, you'll need to be free in southwest London on Monday afternoon (ie you'll probably be a student or unem­ployed or 'at the dentist') and you will need to have ears. The time is still TBC but we reckon it'll be at some point between midday and 3pm.
To enter this bizarre com­pet­i­tion and stand a chance of spending a rather awkward 50 minutes locked in a room with us, email us on [email protected] and tell us why you need to hear the Britney album and what your expect­a­tions are. Include your phone number and we'll let the winner know at 5pm today (Friday).