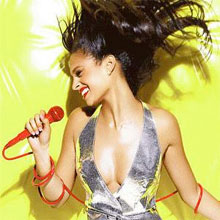 Alesha Dixon 's new single, 'The Boy Does Nothing', is a 'Mambo #5'-esque epic and is incred­ible in every respect.
Reasons it is amazing:
1. "Does he wash up never wash up, does he clean up no he never
cleans up, does he brush up, never brushed up, he does nothing, the boy
does nothing." CHORUS OF THE YEAR. (The end, "if the man can't dance, he gets no second chance" might be outro lyric of the year as well.)
2. One of the best bits is after the second chorus when it all goes properly mental with Alesha screaming "do the mambo, shake it all around now" before hurling herself into an "I wanna see you work, I wanna see you move your body and turn, I wanna see ya work it work it out now" bit before the final chorus explodes all over the place.
3. It doesn't sound like anything Alesha's done before, it doesn't sound like anything Xenomania have ever done before, and it doesn't sound like anything else that's been in the charts for however long it is since Lou Bega was roaming the earth.
Here's a clip of 'The Boy Does Nothing' or, as those in the know will be calling it, 'Mambo #5.1'.
[audio:aleshanew.mp3]
We think this is a potential Number One single. We've said this twice in the last year or so — once about Sean Kingston's 'Beautiful Girls' and once about Solange's 'I Decided'. Let's wait and see how this one pans out… The single is out in November followed by an album, 'The Alesha Show', which we'll tell you more about next week. In the meantime Alesha's MySpace has a one minute clip of the single and is here.
UPDATE: THERE ARE FIFTY (FIVE ZERO) DANCERS IN THE VIDEO.