Following in the footsteps of Matt 'Two Vids' Willis, here is the new clip for Lily Allen's 'LDN'.
Clearly the first 52 seconds are the best bit.
Now, we don't like to keep bringing up the fact that we have an impress­ive 2:1 in Media Studies but we feel that some viewers may have missed the subtle devices at work in this video clip and we would like to 'decon­struct' the 'text' so that everyone can understand.
The central premise of the video is that every­where Lily allen goes is amazing and brilliant. Everywhere she is not is shit.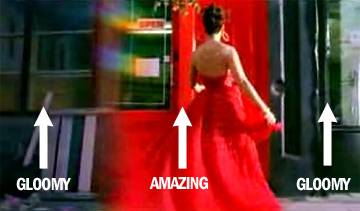 In the song's lyrics, Lily sings, "when you look with your eyes everything seems nice, but when you look twice you can see it's all lies". The video's director has cleverly inter­preted this idea.
Let us explain.

In Fig A, you can see that when you look 'with your eyes', something on
the floor 'seems nice' — in this instance, looking 'with your eyes'
shows you a sweet. But no! If you 'look twice' (Fig B), you can see that the
'sweet' is a lie. In reality, what is on the floor is a cigarette end.
Do you under­stand? No. Perhaps this visual inter­pret­a­tion of the song is too subtle. Let's try again.

In Fig C, the street scene features a parrot (a parrot!) and a man on a penny farthing. This is nice! In Fig D, having 'looked twice', you can see that the street actually features a pigeon and a man on a motorbike — this is not nice.
DO
YOU
SEE
?
We wonder if Lily has a favourite brand of vodka?