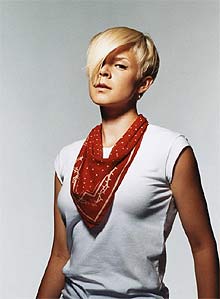 Readers! Do you enjoy lifting heavy items of pop-related machinery?
Perhaps you have always dreamed of letting your arse hang out all over the place, having a bunch of keys the size of Wigan, hanging your mobile phone around your neck on a lanyard, sporting a Carter USM t‑shirt and per­form­ing Lenny Kravitz riffs on someone else's guitars?
Good news!
We're offering you the chance to be a roadie for Robyn. You probably won't actually have to carry anything but you and a friend will meet Robyn, have a chat with her, watch her sound­check (and perhaps see her throw a strop seeing as that is the best thing that tends to happen in sound­checks), and then take another three (THREE) friends to watch her play a gig that very night?
Would you like to do that?
Yes you would. It's for the Cargo gig on March 29, FYI.
To be in with a chance of winning this once in a lifetime oppor­tun­ity to meet a lady and then watch her do some things, email us at [email protected] and tell us which one of your friends you would not trust around a popstar and why — with reference to previous disgraces, please.
You must supply your own Carter USM t‑shirt.