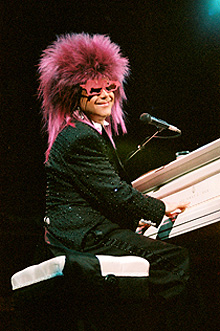 :: Elton John may be banned from playing a gig in Tobago in case he turns the audience gay.
:: Louis Walsh has written some sort of 'tell all' book about X‑Factor and his incred­ibly exciting life.
:: Justin Timberlake has written a letter to Britney offering 'uncon­di­tional love and support'. No new hair though.
:: Jamelia had a shopping centre closed down in Russia — so she could go shopping.
:: Madonna is going to get her old lady bits out in a new series of US drama 'Nip/Tuck'.
:: 'Bookies' have declared that the bloody Ray Quinn album is going to be Number One by the end of the weekend. He also did something in a helicopter.
:: Jason Donovan is not going to 'tell all' about his time doing it with Kylie Minogue in a new auto­bi­o­graphy. It was all made up.
:: All Saints have promised to carry on making music. We'll wait and see.
:: Fergie got thrown off an aeroplane for being drunk. We should point out that the aeroplane was not in flight at the time.
:: Kimberley Girls Aloud got thrown out of a nightclub for being drunk. Likewise, this was not in flight.
:: Joss Stone has been told to ditch her 'hangers-on' if she wants to save her career. :(
:: Ex-popstar and vile tele­vi­sion presenter Charlotte Church has decided that she doesn't want her baby to be a girl. Someone get Jeremy Kyle on the phone.
:: David Gest is in 'the running' to be a judge on the next X‑Factor series. Ahem — McBride?
:: Robbie Williams has been pho­to­graphed smoking two cigar­ettes at once. At least if the pop thing goes wrong he can always fall back on a career as a labor­at­ory beagle.
Have a nice weekend,
PJ x